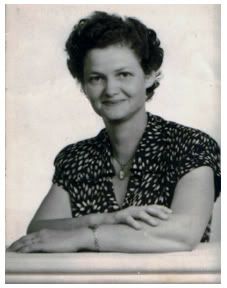 My very fondest memories of my childhood almost exclusively include my Grandmother Ella. She was the perfect grandmother. Today … she has been gone 21 years, it seems like yesterday. She was my father's mother.
Ella Wilson was born on March 10, 1911 in Escambia Co., AL to Matthew Wilson and Mary Elzine Manning. The Wilsons and Mannings were of Scottish descent and came into Escambia by way of Santa Rose Co., FL which in the early days had become a migration destination for Scottish people after Florida was acquired from Spain. She was the seventh child in a family of eight children; Mattie, Jerry, Riley, Lawrence, Fred, Evaline, Ella and Margaret. In 1954, her sister Margaret was killed in an automobile accident. My earliest memory is going to Alabama for that funeral, I was four years old.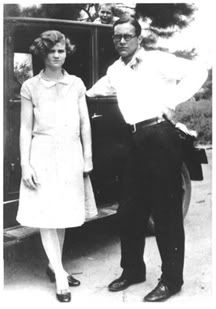 My grandmother Ella married my grandfather Eulis Franklin Rudd in Florida when she was sixteen years old. This is a picture of them on their wedding day. She was a beautiful girl. She had three children with Eulis. The first one, Eulis, Jr. died before he was a year old. My father, Doyle Carlton, was their second child and my Aunt Zine, Margaret Elzine, was their third child. About nine years after her marriage to Eulis, they were divorced and a few years later, she married Robert Cleveland Ferguson and moved with him and her children to Texas. Her second husband is the one I knew as my Poppa. My mother told me that the happiest times of my grandmother's life were when she was taking care of me. Me too!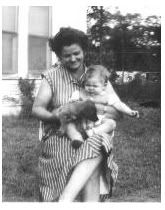 My parents and I lived with my grandparents for the first year couple of years after I was born, until shortly after my sister was born. Then my parents moved into a house next door so we were always my grandparent's house. My mother's family was in Maine so my grandmother became more than just her mother-in-law. My mother has often said she just doesn't know what they would have done without my grandmother in those early years.
My grandmother was absolutely the most kindest person I've even known in my life. Anyone who needed help, she was there to do anything she could to make their life easier. After my parents bought their first house we moved about 20 miles away but my Poppa would come and pick me up on Friday after work and take me to their house for the weekend. Then on Sunday my parents would come to dinner and pick me up and take me back home. Even when I became a teenager, I would spend at least one weekend a month with my grandparents.
So many wonderful memories.
When I was 19 years old my parents moved to East Texas and I went to live with my grandparents for a while until I was able to afford to move into my own apartment. She was always there for me. She taught me to cook, to sew, and passed her green-thumb to me. She taught me kindness and charity. She taught me loyalty. She taught me to be brave and how to weather life's storms. She taught me to be optimistic.
I am who I am today because of my Grammy.
I miss you Grammy.