Elias Rudd of St. James Goose Creek wrote his
Last Will and Testament
on May 13, 1847 and it was proved with testimony on February 29, 1848. He died within 9 months.
In his will he identifies the location of his several tracts of land.
I direct that my several tracts of land be divided by a line running as nearly as is practical in the center of a Branch known as the continuation of Partridge's Creek Water of Wasamasaw and extending through my said land in a nearly western direction
We know by the land grants and land surveys found in the South Carolina Archives that he did indeed have several tracts of land.
You can view the land grants and land surveys here.
It's difficult to determine just how many of those documents pertain to him because the use of the name Eli, Ely and Elias can be confusing when we try to follow the census. And at times it seems that the name Eli and Elias are interchangeable in the St. James Goose Creek census. Oh, if we only knew why George Lounsdell would name two sons with such similar names. It's evident that Ely, son of George Lounsdell Rudd, Sr. also had land grants and land surveys.
Elias Rudd also names his heirs in his Will:
my son, George W. Rudd; wife, Elizabeth; daughter, Amelia Ann Rudd; daughter, Mary S. Rudd; daughter, Margaret Rudd; daughter, Tabitha Bradwell; daughter, Catherine Long
When we look to the 1840 Charleston census I think we can dentify the Elias Rudd with the St. James Goose Creek Will because his daughter Tabitha Rudd is living next to him.
It appears that by the time of his Will, daughter Tabitha has married, as has daughter Catherine. But at the time of this census, Tabitha was living separately which would indicate to me that she is living on one of the adjoining tracts of property that had been improved.
Based on the information in his Will, the households in 1840 might have looked like this:
1840 Census
Elias Rudd, Pg 155 Ln17
1m 10/15...George Washington, son
1m 20/30...Unknown male (possibly Catherine's husband)
1m 50/60...Elias, head
1f 5/10.....Margaret ?, daughter
1f 15/20...Unknown female (possibly Catherine, daughter)
1f 40/50...Elizabeth, wife
Tabitha Rudd, Pg 155 Ln18
1f -5........Amelia ?, sister (Elias daughter)
1f 5/10.....Mary S. ?, sister (Elias daughter)
1f 20/30...Tabitha, head (Elias daughter)
Two thoughts. First, Catherine only receives 50 acres of the land while the other children receive 150 acres. That might indicate she had already received 100 acres between the 1840 census and the 1847 Will, maybe when she and her husband moved out to the home. Second, based on this census, Elias Rudd would have been born between 1780 and 1790.
In addition, when we look at the Eli and Elias households in 1820 and 1830 respectively it could appear that the 1840 Elias Rudd emerges as a son of Eli but we have already determined that Ely, son of GLR, was born between 1774-5, so if as indicated, Elias Rudd was born between 1780-90, it's very unlikely that Ely is his father. My impression is that at some point, Elias Rudd and his family were living in the Eli Rudd household, his brother.
In my research it is clear that the children of George Lounsdell Rudd, Sr. owned land in the area of Four Holes Swamp.
Elias Rudd also had a tract at Four Holes Swamp
, with additional tracts expanding out towards Cypress Swamp and Wassamassaw Swamp. The
1820 land survey
not only identifies the Partridge Creek area but shows a survey for a third tract being added to two existing tracts.
Here is the general location of Elias Rudd's land. It appears to be near lands owned by a Burlingham Rudd based on
land surveys identifying Rolling Road
as a land mark.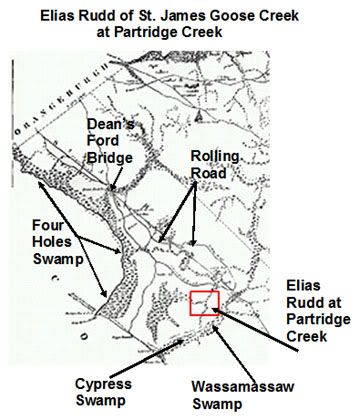 A few years ago I found a listing for a George and Emily Rudd buried at Rudd Branch Cemetery. Based on the estate probate for George Rudd, he had a wife named Emily and a son named Charles W., two daughters named Mary Elizabeth and Martha Jane. Recently, I discovered a new tool for a topographical map locator and was pleased to
locate not only Rudd Branch, but also Rudd Cemetary.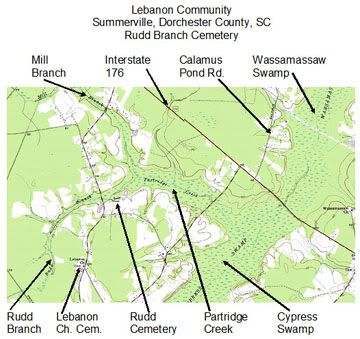 CLICK FOR LARGER VIEW
Most likely the George and Emily Rudd buried beside each other at Rudd Branch Cemetery are the son and daughter-in-law of Elias Rudd of St. James Goose Creek.
I can't be certain, but I do tend to believe that Elias Rudd with the Last Will and Testament in St. James Goose Creek is Lias, the son of George Lounsdell Rudd, Sr. identified in the Deed of Gift Forwarding Stock in Screven Co., GA.
In that 1797 Deed, Elias Rudd would have been 7-17 years olds and not yet of age.