3rd Generation Continued
Four Holes Swamp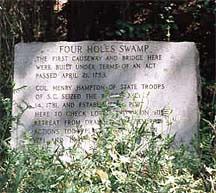 Four Hole Swamp is an approximately
60 mile long system with a one-and-a-half mile wide flood plain from swamp edge-to-edge
which drains into the Edisto River.
Four Holes Swamp is the large swamp which forms the upper half of the northern boundary of Dorchester County with Orangeburg and Berkeley Counties. It is said to be so named because the water in the swamp starts from four holes or springs.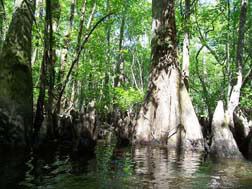 Derives its name from four large pits which alternately suck in and expel the waters of the swamp. From the discharging holes the water boils over like a mighty well, and into the receiving holes it plunges with considerable noise. ~
Dorchester Place Names
Without a doubt the four sons that George Lounsdell Rudd named in the
1797 Screven Co., GA Deed of Gift
are third generation: George, Jr., Ely, James and Lias. Now that was a very helpful thing for George Lounsdell to do for us, if only he had been just a little more considerate and not named a son Ely and another one Lias! As you're going to see, the census data only adds to the confusion because of the inconsistency in names of head of households from one decade to the next. And the very existence of Burlingham Rudd in 1800 Charleston is confusing because there is also a Burlingham Rudd in the 1800 Barnwell census and both seem to reflect a head of household who says he is age 45 or older. We have no clear indication of how this 1800 Burlingham Rudd at Four Hole Swamp relates to George Lounsdell.
So, I'm going to try to sort through this as best as I can and try not confuse you along the way. Hopefully, at the end of this narrative, we'll all have learned something about this group that we didn't know before.
First, let's go back to the Screven Co., GA Deed of Gift. It was written on January 30, 1797 and recorded almost seven and a half years later on May 4, 1804 upon the event of George Lounsdell's death. It was not his Last Will and Testament but it was recorded in Charleston, SC in the Wills Section of the State Papers. I've not found any Last Will document for George Lounsdell but it does appear to me that whatever land he owned at the time of his death was passed to his widow, Margaret. We don't have a Last Will for her either, so I've not found any record of how that land was disposed of when she died. And keep in mind that the 1797 Deed of Gift only distributes livestock and moveable property; it does not include any mention of land. Since it is a Deed of Gift, we should not assume it is necessarily inclusive of all of George Lounsdell's sons. Remember that in the Deed of Gift, George Lounsdell says:
I do acknowledge and appoint my sons George Rudd and Ely Rudd to take in their possession all the property aforesaid and to keep it carefully until these two younger brothers become of age. And then for it with increase to be equally divided among the four, their heirs and assigns.
Other than the mention of George, Jr. in the Deed of Gift, we find no further evidence of him in this family group at Four Holes Swamp, at least not under that name. Of the two George Rudd head of households that appear to be in the 1820 Barnwell Co., SC census, both reporting the same age range, one of them could be George, Jr., the son of George Lounsdell. It would be a close fit when we factor in all the evidence we have in order to compute the age of George Lounsdell's son Ely as the second son listed in the Deed of Gift, but it could fit. And we know that it's not unusual for ages in census to be off by a few years.
At about the same time as the Screven Co., GA Deed of Gift was written, George Lounsdell makes his first appearance in the Charleston District of South Carolina with a
land grant for 500 acres dated January 5, 1797.
The land had been previously surveyed for Benjamin Singletary in 1791 and since this is a State Grant and not a Deed of Sale, it appears to me that the land had been surveyed for Singletary but he did not take possession of it, therefore, when it was granted to George Lounsdell, it wasn't necessary to survey it again.
In
1798 a grant to Ely Rudd
states that the 500 acres were surveyed for George Rudd. The
survey
shows the land granted to Ely Rudd bordered by land owned by George Rudd that appears to be on both sides of Four Holes Swamp. The line down the middle of this land is not identified but appears to be a road or perhaps a path. Interestingly, the manner in which George Rudd is identified as a land owner appears to indicate two parcels of land which brings me back to a mention in the
"Historic Ramblin's Through Berkeley" by Mr. J. Russell Cross
(that I discussed in
South Carolina Rudds ~ Part 1
) that says:
500 a. to George Rudd in 1781
Therefore, if George Lounsdell did have two parcels of land by the time this 1798 survey was performed for Ely Rudd's grant, then this survey might be showing us both of those parcels. This 1798 land grant to Ely Rudd was surveyed for George Rudd. That means that George paid the fees for the land but the land was granted to Ely. That's a strong indication of a personal relationship and more than likely this is Ely, the son of George Lounsdell as named in the Screven Co., GA Deed of Gift.
When we look at the 1800 Charleston census, we only see households for Burlingham Rudd and George L. Rudd. So if as is stated in the Deed of Gift, the two older sons, George, Jr. and Ely were "of age" they do not show up in the 1800 South Carolina census as head of household. If the census is correct, then the make up of George Lounsdell's household seems to include unidentified persons or they might be George, Jr. and Ely because if the two younger sons in the 1797 Deed of Gift are "not of age" in 1797, how can they be 26/45 years old three years later? Assuming the census is correct, those two males in George Lounsdell's household were born between 1755-74 and would be early to mid third generation males and the two males in Burlingham's household that were born between 1774-84 are mid third generation males, the one male born 1790-1800 is either late third generation or early fourth generation.
By the way, it might make sense that if Ely acquired his land in 1798, he might not have built a residential structure on that land by 1800 and since the land is located next to his father's, he very possibly is living in his father's house. But who is the other male 26/45 if not George, Jr.? And where are the two younger sons, James and Lias? Told you this was frustrating!
In February
1800 George Lounsdell purchases another parcel of land
from Gilbert Crosswell, for $43 by the way, and then
sells this same parcel in February 1803
to Jacob Danciller for $800! True to his form as we've seen in Anson Co., NC, George Lounsdell appears to be quite the land speculator! We don't have a survey for this parcel but in the deed it states that Benjamin Singletary is one of the boundaries. He's also listed as a boundary on Ely's 1798 survey and identified in George Lounsdell's 1797 grant as the person who had originally surveyed the land in 1791. Benjamin Singletary seems to be the one constant landmark we have at this point in identifying the location of these parcels of land. And I'm going to get back to the significance of that real soon. But let's move on for now.
The next land record I've found is an
1802 survey for 116 acres for Burlingham Rudd
where he acquires land adjoining what appears to be Ely Rudd's 1798 grant. According to the survey, they are moving north. Unfortunately, not all the surveys carry a directional arrow that identifies north but rather use language that identifies north, south, etc. of a specific landmark, such as Four Holes Swamp. On this survey we once again see the name of Benjamin Singletary and note that it also reflects land owned jointly between Burlingham Rudd and James McNish. Since the survey doesn't distinguish between the two Burlingham Rudd names listed, such as Sr. and Jr., I think it indicates that they are the same person. We do know that based on tradition of the time, if two men in the same family used the same name, one was generally called senior and the other junior. I would think that on a legal document such as this survey, if they were two different men, it would be distinguished because when the land is sold the survey is generally used as the official registry of the land. I've often seen deeds of sale of this time period which include a reference back to the land plat registered in the land office. If such is the case, Burlingham Rudd is purchasing a parcel of land that adjoins land he already owns, or at least has joint ownership. And if they are the same man, that indicates to us that Burlingham Rudd owned land prior to 1802 and that could be the reason he appears in the 1800 Charleston census even though I've not found a record of that particular parcel of land. And more importantly it could be evidence that the Burlingham Rudd in the 1800 census is the same Burlingham Rudd in this 1802 survey.
Then in
May 1808 there is a land grant
and
survey
for Burlingham Rudd for 606 acres. We see in both of these records the reference to land owned by the late George Lounsdell Rudd. This confirms that George has died but the land appears to still be in his name, therefore not sold as part of his estate. I think his widow, Margaret, is probably living on the land. What's really significant about this 606 acres of Burlingham Rudd is when it is
sold in 1814 to William Harrall
we see that Burlingham signs his legal signature, he didn't use a mark. As I noted in the narrative
The Burlingham Rudd Who Married the Widow Mary Whaley
, this Burlingham who signs his name (
and signs all the documents between Burlingham Rudd and Mary Whaley
) can not be Burlingham 2nd because The 2nd uses a "X" mark for his legal signature on the records in Anson Co., NC. But what we don't know is if this Burlingham in 1808 is the same Burlingham in 1802 and, therefore, potentially the same Burlingham in the 1800 census. If they are the same man, then the 1800 Burlingham Rudd at Four Holes Swamp is not The 2nd. If they are different men, then who does this Burlingham come from? If he is at least 21 years old to acquire this 1808 land grant, then he has to be born by 1787, that's late third or early fourth generation at the latest.

Recently my new found cousin, Kathleen, shared with me a listing she found in an old Charleston Directory that dates back to 1809, one year before the 1810 census, one year after this 1808 land grant and survey. The directory list land owners which might not be specific to the residents and states that some names are duplicated because of that system, therefore, it appears this directory is developed based on who were the land owners at the time. I'm just guessing but I think that's probably because only land owners were allowed to vote. Only the males that is!
Now look at this: Burlingham, Elias, Ely, Jane. The names appear to be in alphabetic order rather than geographic order. Interesting, the year before, in 1808 the land grant and survey for Burlingham Rudd identified the land owned by the late George Lounsdell Rudd but we don't see his name in this directory. We do see the name Jane and not Margaret, his widow. Because the directory lists both Elias and Ely and they are spelt differently, they appear to be two different men. We have a record of a 1798 land grant for Ely Rudd but I've not found a land record for Elias Rudd that early. Let's compare this directory with the 1810 census.
Elias, Margaret, Elijah and (what appears to read) O'riley. Now these are head of households, families living in different dwellings, not necessarily the land owners. You can look at the census page
HERE
.
They are listed next to each other and that would indicate they are living next door to each other. The only consistent name between these two records is Elias! But like I said, we don't have a land record for Elias by 1810. We have a 1798 land record for Ely, but surely he's older than the Elijah in the 1810 census. So is Ely as named in the Screven Co., GA Deed of Gift actually named Elias? And if that's the case then what is Lias' actual name? I do think the Elias and Ely in the 1809 Directory are the same Elias and Elijah in the 1810 census, I'm just not sure who is which one.
In the 1809 Directory we have Burlingham a land owner, but in the 1810 census we don't have Burlingham as head of household. We know he didn't sell the 606 acres he acquired in 1808 until 1814. So in 1809 he is a land owner. Does this indicate that Burlingham was a land owner in 1809 but for some reason, not the head of household in 1810? We don't see an older male in any of the households that would match the age of the 1800 Burlingham household. And who the heck is O'riley in the 1810 census? Is Burlingham in the directory the same man as O'riley in the census? And isn't O'riley such a strange name to appear now. We never see it again.
Now also what is interesting is that this 1810 census records Elias, Margaret (the older), Elijah and O'riley as living in Colleton Co., but there is also a Margaret Rudd in St. James Goose Creek (SJGC). Based on her reported age range she could be out of either the Burlingham or George Lounsdell household in 1800. But we don't have any Margaret in the 1809 directory. We have Jane. My speculation is that Margaret the mother, widow of George Lounsdell, is living on land that has been given as inheritance by 1809 and that's why George Lounsdell isn't listed as a land owner in the directory. As I've seen in many Last Wills of this time period, the land is given to the heirs with a clause that says that the wife is allowed to live on the land until her death or her remarriage. That's why Margaret the mother is in the 1810 census as a head of household, she's living in her own dwelling. My guess is that Jane in the 1809 Directory is the same person as the Margaret (the younger) in the 1810 SJGC census. And if that is the case, then Margaret in 1810 SJGC is most likely an unmarried daughter of George Lounsdell.
So based on the 1810 census, as far as the males are concerned, we have two males born between 1765-84, Elias and O'riley, thus they are third generation, and two males born between 1784-94 in Elijah's household, thus making them mid third to early fourth generation and two males born between 1794-1800, one with Elias and one with O'riley, thus they appear to be fourth generation, sons of the head of household. Even though the names don't match up, the total number of third and early fourth generation males does match up between the 1800 and 1810 census.
I wondered how it came about that the family is listed in Charleston in 1800 then in 1810, one group is in Colleton while Margaret the younger is in Charleston at St. James Goose Creek. And keep in mind that all of the land records up until this point are in Charleston District with the one constant landmark of Benjamin Singletary as a boundary land owner. Here's what I discovered and it might eventually help us figure out how this group relates to each other if I can succeed in laying out the land parcels on a map.
Going back to George Lounsdell's 1797 land grant that was originally survey for Benjamin Singletary in 1791, I searched for Benjamin in the 1790 census and found him residing in St. George Dorchester, Charleston District. According to this map, the parishes of St. George Dorchester and St. James Goose Creek shared a border and both laid within the Charleston District. Four Holes Swamp crosses over the border by coming from St. James into St. George where the swamp drains into the Edisto River approximately at the point where I've place the blue asterisk. The 1798 land survey for Ely Rudd also shows Benjamin Singletary as a border and remember that it also shows what looks to be two parcels of land owned by George Lounsdell on both sides of Four Hole Swamp. And remember all the land acquired by George Lounsdell, Ely and Burlingham up until this period adjoined each other. It would appear that these tracts of land became divided by the Colleton/Charleston border for the 1810 census, thus Elias, Margaret, Elijah and O'riley are on the Colleton side and Margaret the younger is on the Charleston side. That would mean that Margaret the younger is living on the outer edge of land that lies east of the rest of the family.
You'll notice on the 1810 census for Margaret the younger there are two Joiner families.
Joiner is a name that appears on George Lounsdell's 1797 grant
as a neighboring land owner.
Also, you'll see that on the
1800 census for George L. and Burlingham
the name in between them is Thomas Ray.
By the 1810 census, we know that George Lounsdell has died, but notice on the
1810 census for Margaret Rudd the younger
, she is living near Thomas Ray.
It's hard for me to say since I'm not personally familiar with that area in South Carolina, but it looks to me like it's possible that in 1800 George Lounsdell and Burlingham were living in dwellings on the east side of Four Holes Swamp. Between 1800 and 1810 the family had moved to the west side of the Swamp and built individual dwellings that fell within the Colleton boundary. Except for Margaret the younger, who might have moved with the family and then moved back to the Charleston side by 1810. That's what makes me think that for some reason, perhaps an inheritance of land from George Lounsdell's estate, she is living on the old homestead at St. James Goose Creek. But of course, we can't be sure because there is a female of the right age living in both the Burlingham and George Lounsdell households in the 1800 census and both of them are living in that same area in that census.
By the 1820 census, it appears Margaret, George Lounsdell's widow, has died or she is living in the household of Burrel Rudd. What's noticeable is that when comparing the 1810 to the 1820 census, the 10/16 male in Elias' household and the 10/16 male in O'riley's household do not show up as 16/26 males in the 1820 census. There are of course several possibilities but I'll wait for the next narrative to explore them. For now the four adult males reflected in 1820 census as third to early fourth generation total the four male head of households identified as third or early fourth generation males in the 1800 and 1810 census.
But if we progress the ages of the males in 1810 to 1820 we should be seeing six males instead of four. So two males are either living somewhere else in 1820, not accounted for in the census or they've died. However, it would appear that one of the four adult males in 1810 is living in the household of Eli in 1820 if this census is correct and there are three Rudd households. This time the families are listed as living in St. James Goose Creek. You can see the census page
HERE.
In comparing the land records leading up to the 1820 census we find in
1819 Eli Rudd was granted 291 ½ acres
of land at Four Holes Swamp. On the
survey
you see that West Williams was a boundary land owner and on the
1820 census page
, Eli Rudd is listed next to West Williams.
That same year,
Burlingham Rudd was granted 352 acres
that adjoined land owned by Burlingham Rudd. Once again we don't see anything that distinguishes one Burlingham from the other, so that leads me to believe they are the same man. On the
survey for this land
you see border lands formerly owned by Thomas Singletary, George Crawford Sr. and Jr. and Thomas Faulling. Those names appears on the same page of the
1820 census
.
James Rudd
is also listed on the same census page down near Thomas Faulling. I've not found a land record for James, but this would appear to be the James Rudd that George Lounsdell names as his son in the 1797 Screven Co., GA Deed of Gift. His household reflects three children under the age of 10 and that would indicate that he was married within the last decade and for that reason he hasn't shown up as a head of household before now.
In
1818 Elias Rudd is granted 218 acres
at Four Holes Swamp. The
survey
doesn't give me much help in trying to identify the location of his land. The name Mrs. Mary Smith is too vague and I haven't been able to locate the other names in the 1820 census. What is significant, however, is that this is the first land record for Elias Rudd. In
1820 there is another land survey for 326 acres
in the name of Elias Rudd and on the survey we see other tracts of land belonging to Elias Rudd. The land is identified as being on Partridge Creek which will correspond to the
Last Will and Testament for Elias Rudd of St. James Goose Creek
which identifies his land as being at Partridge Creek and names all of his children. Today there is a
Rudd Branch that comes off of Partridge Creek
in the Berkeley area of South Carolina as well as a
Rudd Branch Cemetery near Summerville
where there are two undated headstones, one for George Rudd and another for Emily Rudd. This seems logically to be George Washington Rudd, son of Elias Rudd of St. James Goose Creek and his wife.
So the land records leading up to the 1820 census confirm the existence of Eli, Elias and Burlingham, but we find no land record for Elijah or O'riley at all.
Let's look at the
1830 Charleston census
starting with Elias Rudd. If his age is reported correctly, he is late third or early fourth generation. Since he reports being born between 1790-1800 and if the one female 20/30 years old is his daughter, then he is most likely close to 38 to 40 years old which would make his daughter around 20 and therefore might indicate he married about the time of the 1810 census. Looking back at the
1810 Colleton census
we see only one household that could be him, Elijah with two males 16/26 years old. But there is not a female that could be the wife, unless there is a mistake in the census and that's not two males. The other possibility is that he was married after the census was taken, which is generally in the mid to late summer. That would really push the timeline for a daughter to be born in 1810. In the
1820 St James Goose Creek census
it's possible he is living in the Eli Rudd household where we see one male 45+ which is probably Ely, son of George Lounsdell, and one male 26/45 years old who would be born between 1775-94. The household contains a female under ten who could be Elias' daughter in the 1830 census and there is another female 16/26 in the 1820 household who could be Elias' wife in 1830. And since as I mentioned before it appears that one of the males in 1810 is living with Eli in 1820, I think it's a pretty good guess that male is Elias from the 1830 census with the beginning of his family. By 1830 it appears that Ely has died.
In the 1830 census, the situation in the Burlingham Rudd household is absolutely perplexing! There is no family information listed, but 15 slaves are recorded. In the previous census,
1820
, no slaves were recorded but two free colored persons were identified. We know from the St. James Goose Creek records that
Burlingham Rudd married the widow of George Powell Whaley, Sr., Mary Williams Whaley
, some time between December 1826 and October 1827. Mary Whaley Rudd's marriage settlement in January 1835 and Burlingham Rudd's estate inventory is dated May 1836 indicates to us that Burlingham died sometime before January 1835 but his estate wasn't inventoried until almost a year and half later. That might be one reason there wasn't much left to it! But surely he was alive for the 1830 census. And when you
look at the census page
there is little doubt this is the right Burlingham Rudd because we see Mary Whaley Rudd's two sons living near by. And as I discussed in the narrative,
The Burlingham Rudd who Married the Widow Mary Whaley
, it does appear likely that the Ms. Valey living next door to Burrel Rudd in 1820 is the widow and her name was mis-recorded due to dialects that made a W sound like a V. Notice at the top of that census page you see the name Thomas Harry which corresponds to the
Thomas Harry on Burlingham's 1819 land survey
.
Also on this
1830 census page you see Elias Rudd
and the name John Varner and Jacob Peagler. On the
1833 land survey for 228 acres to Jacob Peagler
we see two tracks of land for Elias Rudd which also identifies land owned by John Varner. There is also an
1833 survey for Isaac Peagler for 271 acres
that identifies land owned by Elias Rudd and Jacob Peagler. So it appears that Elias Rudd who owned land around the Partridge Creek area was very near the land granted to Burlingham Rudd in 1819. I can't explain why there was no household information for Burlingham Rudd in the 1830 census unless this land was strictly farm land and he was not residing on it. But it's been my experience that in such situations, the census taker lists it as "Estate of" which was not done in this case. And when we look back at the 1820 census, this would appear to be the same location of Burrel Rudd. Perhaps, after Burlingham (Burrel) and Mary Whaley were married, he moved off his land, perhaps by the 1830 census he had already died but the land was still in his name, such as we saw with George Lounsdell. It is a mystery!
Now looking at
Mary Rudd in the 1830 census
. This does surely look to me to be James Rudd's widow even though family tradition says her name was Sarah (Bowman). As I mentioned earlier, I've not found a land record for James Rudd but there is a record of his paying tax on one slave. The names on the 1830 census page don't help us in trying to identify her location, but since she's not near by Burlingham and Elias in 1830 like James was in 1820, I think it's likely they had moved. The several
Smith family names and the Wilson family on the 1830 census page
may hold a clue as to her geographic location. Family tradition says that she and James had two sons and one daughter and that James died about 1825 whereupon she remarried George Poland. Her remarriage does seem to be the case but if she is the Mary Rudd in the 1830 census, then she and James had three sons before he died. If you look at the
1850 Charleston SJGC census
you will see Sarah Poland, wife of George Poland, they have a James Rudd, age 28, with who appears to be his wife and 1 year old son living with them. Sarah and George Poland have a 21 years old son and a 19 years old son in the household. That would fit the family tradition about Sarah remarrying after James Rudd died and she could have married about 1827-28. There's another family "lore" that says that Sarah gave up her children to Elias David Rudd to be raised when she remarried and they were William Wesley Rudd of Dale Co., AL and Burrell Rudd of Coffee Co., AL. But I have since determined that Burrell Rudd of Coffee Co., AL is the son of George Washington Rudd and most likely William Wesley Rudd of Dale Co., AL is a true son of Elias David Rudd. Anyway, it surely doesn't look to be the case that Sarah gave up her children, at least not as far as son James Rudd is concerned. I think it's also likely that the Jacob Rudd living next door as a laborer is also one of her sons. James Rudd, Jr. would fit the 5/10 male and Jacob Rudd would fit the 10/15 male in Mary Rudd's 1830 household. Jacob and one other son would fit the 1820 James Rudd household with James, Jr. not yet born.
Finally, let's look at the 1840 Charleston census. We only find Elias and Tabitha Rudd listed although surely there are others there at the time because they will show up in the following years. However, in those following census years they do show up in a somewhat fractured and inconsistent manner which indicates to me the disconnecting of the family maybe through unexpected deaths and remarriages. I don't get the impression that many of those at Four Holes Swamp migrated out of that area this early in time because I've not found them anywhere else. As I referenced before there is a
Last Will and Testament for Elias Rudd of St. James Goose Creek
written in May 1847 and proved in February 1848 where he names all six of his children and his wife. Thank you Elias! The
Tabitha Rudd living next door to Elias Rudd in the 1840 census
is his daughter Tabitha Bradwell as named in his Last Will. She is Isaac Bradwell's second wife. Notice that we also see the family name Joiner and Thomas Ray living near by. This would indicate that this land is nearby the location of George L. and Burlingham Rudd in the 1800 census and Margaret Rudd in the 1810 census. We also know from the Last Will that the land being divided among the heirs is located at Partridge Creek and most likely in the same location as present day Rudd Branch and Rudd Branch Cemetery, this cemetery as I mentioned earlier is where George and Emily Rudd are buried, no doubt the George W. that Elias names as his son in his Last Will.
Based on the 1840 census, Elias is born between 1780-90, late third or early fourth generation. Looking back at the 1830 census where we see Elias Rudd, the make up of the household does not clearly match a 10 year progression based on the listing of his children in his Last Will. But it's really not that far off. I'll get into more detail in the next narrative about that.
Now, if as it appears, the 1840 Elias Rudd is the same Elias Rudd in 1830 we can determine he is born around 1790. Going back to the 1790 Fairfield District census for George L. Rudd, we see that he has 3 males under the age of 16 in his household. Until we can find George, Jr. we really won't be able to determine who these three males under 16 are. If George, Jr. is out of the household by 1790, I've not been able to find him somewhere else in the 1790 (or the 1800 census for that matter). If those three males are George, Jr., Ely and James as named in the Screven Co., GA Deed of Gift, then it would fit that Lias was not yet born making it very possible that Elias Rudd is Lias, the son of George Lounsdell. When we add to the fact that Elias of Goose Creek named his only son George W. Rudd it's makes it even more plausible.
Using the land records, the censuses and the
1825 Mill's Atlas
we can identify the general area where the Rudd family members lived at Four Holes Swamp. The map for Charleston District was completed in 1820 and includes not only waterways and roads but also the names of public establishments and some private dwellings.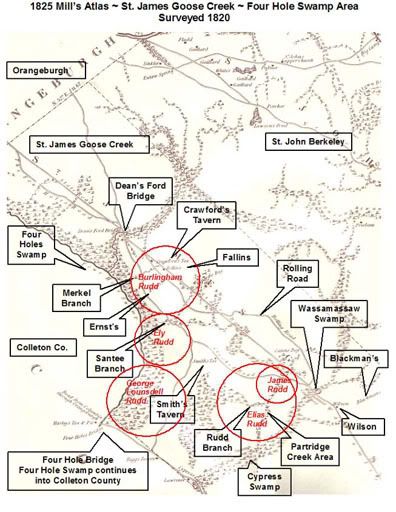 Well, I hope you have been able to follow me as I went through this documentation for Four Holes Swamp Rudd clan! Have you developed any theories of how this family fits together? When I continue, I'll give you my best guess.