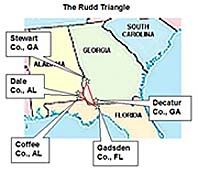 The Rudd Triangle begins to form in Stewart Co., GA. where two sons of Elias David and Fannie Rudd were married; William Wesley to Christiana Williamson on January 20, 1835 and Seth Jackson to Nancy A. Rudd on August 5, 1838. William Wesley and Christiana's third son, William Elias (known to his family as Uncle Bill) was born on February 23, 1840 in Dale Co., AL. And in the book,
The History of Stewart County, Georgia, Volume 1
, we have Elias David recorded as a buyer at an estate sale for Samuel Williams in that county in March 1839. So it would appear that
Elias David,
William Wesley and Seth Jackson
took their families and migrated out of Stewart Co., GA between March 1839 and February 1840 because they all appear in the 1840 Dale Co., AL census. But Elias David and Fannie's daughter, Rebecca Rudd who married Thomas Peak, remained behind and they are
recorded in the 1840 Stewart Co., GA census.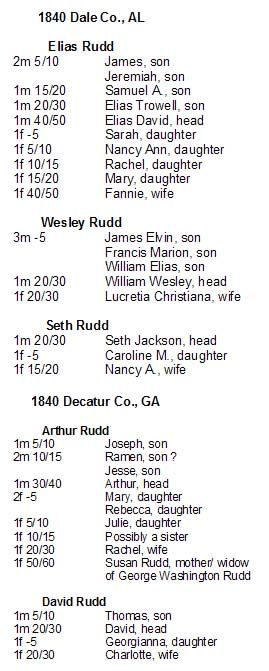 As I proposed in
The Elias David and George Washington Reunion
, I believe that George Washington and his family, including Burrell, David and Arthur, as well as other families from the Barnwell Co., SC area migrated into Georgia about 1835 and most likely took the
Macon-Montgomery Trail
which ran north of Stewart Co., GA instead of the Old Trading Path Trail even though that trail runs through Decatur Co., GA. One reason being in 1835 the Second Creek Indian War was in early stages along parts of that Trail and the other reason being Elias David had relocated to Stewart Co., GA by 1835. But regardless of how they got to Georgia, it appears that when James Dallas writes in his letter that his grandfather, George Washington, "settled in Georgia", that place was most likely in Decatur County.
We see by the
1840 Decatur Co., GA census
, Arthur Rudd with Rachel and David Rudd with Charlotte have also migrated. We don't have much evidence of when they relocated to Decatur, but if we accept the birth place put forth for Arthur and Rachel's sixth child, Mary J. Rudd, they were in Decatur Co., GA about 1837.
This lays out the beginning of The Rudd Triangle. One road leads to Dale Co., Alabama and the other road leads to Decatur Co., Georgia.
You'll notice in Arthur's household there is a female child that's not accounted for among those thought to be Arthur's children. And there's an older female that appears to be someone's mother. My guess is that the child is Arthur's sister and the older woman is Arthur's mother, Susannah Rudd. This appears to be the same women, named
Susan Rudd in the 1850 Coffee Co., AL census living in Burrell Rudd's household.
Sadly, George Washington Rudd has died by the 1840 census.
Now, if we look back at the
1830 Barnwell Co., SC census for George Washington Rudd
, we see there are four female children in his household; 1f 5/10, 2f 10/15 and 1f 15/20. It is likely five years later, in 1835 when the family migrated, that some of these female children migrated into Georgia with their parents or with their own new families. Also back in
1820 Barnwell Co., SC there is an unknown Rud
who I can't account for. The household doesn't appear in the 1830 census anywhere. There are a lot of children in that household. It's hard to determine what the relationship is with the 1820 George Rud household by the location on the census because this is one of those census that appear to be in part organized by placing all the R's together, however not entirely throughout the entire census, but appears more according to be intervals so in this cluster of R's this "unknown Rud" is on page 20a, line 32 and our George Rud is on page 20b, line 17. That's pretty close to each other. Another interesting thing about this "unknown Rud" is that he list 2 involved in manufacturing which brings to mind the reported occupations of several of our Rudds, including blacksmith and shoemaker. There are probably descendants of more Rudds than we are aware of living in the Rudd Triangle today.
In the 1850 census we see these families on the move again with the exception of William Wesley who stays in Dale Co., AL. This move will connect the dots on the Rudd Triangle in what is a very interesting move.
By the
1850 census Arthur has moved from Decatur Co., GA to Coffee Co., AL
. About 1844 Burrell, his brother, had married Frances Clay in Georgia and we can see by the reported birth locations of their children that the move was made after January 1845 and before August 1846.
Burrell and his new family are documented in the 1850 Coffee Co., AL census.
Child # 1: James Dallas RUDD b: January 11, 1845 in Decatur Co., GA
Child #2: Martha Jane RUDD b: August 15, 1846 in Clintonville, Coffee Co., AL
By 1850 Elias David and Fannie have moved from Dale Co., AL to Gadsden Co., FL.
Based on the reported birthdates and locations of two of their children they make their move to Gadsden Co., FL between April 29, 1847 which is the birthdate of Elias Trowell's second child, Frances Caroline, and February 8, 1849, the birthdate of Samuel A.'s second child, Thersey Ann. They will spend the rest of their lives in Gadsden Co., FL.
At about the same time
David and Charlotte leave Decatur Co., GA and move to Gadsden Co., FL.
It would appear that at the time of the 1850 census, none of the Rudds are living in Decatur Co., GA but I'm not so sure about that because as I pointed out in the 1840 census, there is an unknown female in Arthur's household that appears to be his sister. Hopefully, one day we'll find out who she is and who she married and just how many more Rudd descendants came from her.
The Rudd Triangle now reaches from Stewart Co., GA to Decatur Co., GA and Dale Co., AL then to Gadsden Co., FL and it was traveled again as recorded in the
1860 census when Arthur moves from Coffee Co., AL back to Decatur Co., GA,
but his son,
Raymond moves from Coffee Co., AL to Gadsden Co., FL
, while
Seth finally shows up in Webster Co., GA
(which was carved out of Steward Co./Randoloh Co., GA). Seth has been lost in The Rudd Triangle for the last 20 years! Based on the reported birth locations of his children, he's been bouncing around between Alabama and Georgia or he's been living in Webster Co., GA all this time and his wife has been moving around when she is about to give birth, or the children are just confused on where they were born! It's a very strange looking situation. But nonetheless in 1860, Seth Rudd is living in dwelling # 493 and
Thomas Peak, widower of Rebecca Rudd, is living in dwelling # 483
with his new wife. Yes, Rebecca has died. She must have been less than 47 years old. By the
1860 census Fannie Rudd has also died.
My information places her death on August 14, 1855; she was about 65 to 69 years old.
The only other move we see of this group of Rudds in the
1870 census is when Charlotte, widow of David, moves from Gadsden Co., FL to Decatur Co., GA.
David has died by this census and it appears that Charlotte returns to David's family in Decatur, namely Arthur Rudd. And Arthur's son,
Raymond, moves from Gadsden Co., FL to Decatur Co., GA.
One thing that this Rudd Triangle tells us is that the family while each of them established their own homesteads, all remained in close proximity to each other. No doubt the roads in the Rudd Triangle were traveled often and I like to think that there were places along the way from one end to the other end where other family members or friends lived. So that when Fannie wanted to go visit her daughter, Rebecca, or her son, Seth, in Stewart Co., GA the trip was made easier by stopping along the way to visit or stay the night or have a meal with friends or family. I think this proximity and the mingling of the first cousins such as Burrell in Coffee Co., AL and Wesley in Dale Co., AL with Elias David leaving Dale Co., AL to Gadsden Co., FL also, unfortunately, contributed to the assumption that Burrell and Wesley were brothers. It also contributed to the belief that Elias David was Burrell's father. We know now he wasn't, but I do believe that after George Washington Rudd died, Uncle Elias did fill that "father void" for Burrell, just like he did for David. Elias David became the
Rudd Family Patriarch.
You know how during the research process you collect little pieces of information, you don't understand the significance but you can just feel there is a relationship somewhere, so you store that information away in the back of your mind. Then one day, without warning, WHAM!! There it is, the connection is revealed! You're overwhelmed with excitement ... you've just got to tell somebody!
Well, that's what happened for me when I discovered George Washington Rudd. During my search for the Elias David Rudd's family, I had found Arthur and David Rudd in 1840 Decatur and then noted their movement in 1850; Arthur to Burrell and David to Elias David. I knew there had to be some connection but I didn't understand it until George Washington Rudd was added to the picture. I just had to tell somebody that would understand the significance and be just as excited as I was. So I told my cousin Jacque Rudd and she understood. I'm so fortunate to have someone who shares the adventure with me and gets as much thrill from discover as I do.
By linking the two Rudd brothers, George Washington to Elias David, so much has been learned about the makeup, migration and connections with these families.
And in that light, there is just one other thing I want to put in the back of your mind, so to speak. It's just a little thing that I noticed in the
1850 Coffee Co., AL census for Arthur Rudd and Rachel Spears.
You see how Ramen Rudd is listed as the first child but the name Rudd is written again. Many times in my experience this indicated the person living in the household, even though they may have the same surname, they are not a member of the immediate family. And in this case, perhaps Ramen is Arthur's child but not Rachel's child? Or Ramen is not a child of either? This census doesn't record relationships to the head of household. I've just got a feeling that this notation indicates something other than a son of Arthur and Rachel.
Let's just keep that in the back of our mind.